Macro Monthly | November 2020
US election ends, global expansion continues
See the latest issue
---
This month's special edition of Macro Monthly looks at the global investment implications of the US presidential and congressional elections outcome.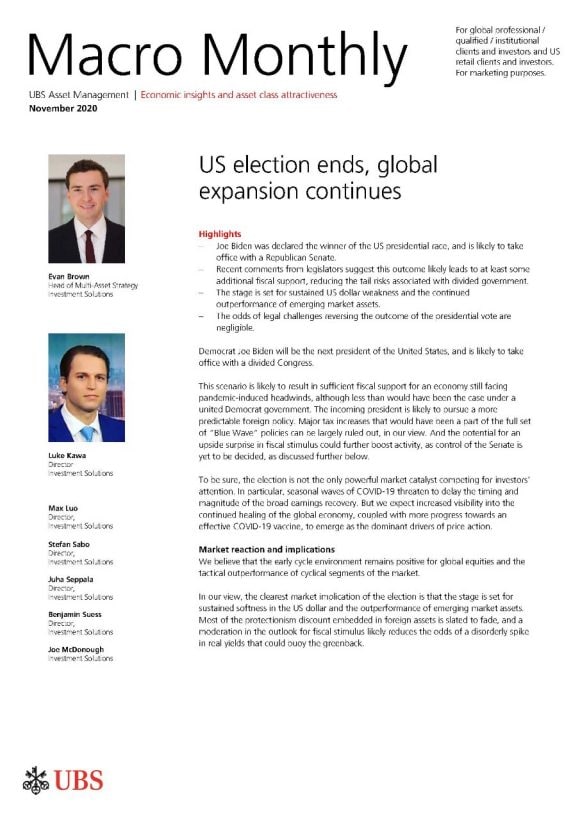 Joe Biden was declared the winner of the US presidential race, and is likely to take office with a Republican Senate. The stage is set for sustained US dollar weakness and the continued outperformance of emerging market assets. We expect adequate fiscal support for the US economy that mitigates downside risks, and anticipate investors' focus will shift from the election to the continued economic healing and the re-opening of activity in 2021 as well as progress towards an effective and broadly available vaccine.
---
UBS Webinar: US election outcome – how should investors adjust portfolios?
On the heels of the most unprecedented election in US history, which has taken place amidst a global pandemic, investors are left wondering how to adjust their portfolios for the short and long term. Please join us as we discuss how markets are reacting to the election results and our longer term capital market assumptions.
Date: Thursday, 12 November 2020
Time: 12:30 EST (17:30 UK)
Format: One hour – moderated discussion followed by Q&A
Register here